Polished Concrete Morayfield
Generally speaking, concrete polishing Morayfield homes and businesses is ideal for many reasons. 
As a result of this, a few environmental aspects are – [ No materials to be removed and added to landfill in the future.Thermal mass ability of finished floor lowers heating and cooling costs – Indoor air quality is better and perfect for sensitive allergies.] 
Once you have seen how much care and time we put in grinding and polishing to craft your floor, the installation cost will be better understood.
Each job is different for many reasons such as look, area size and investment budget. Thereafter, your polished concrete in Morayfield quote estimate is specific to your home or business. In essence, each floor is treated and hand crafted individually…. no two floors are processed the same!  
Being a long term established concrete flooring business locally based, we know the area well. Furthermore, you deal with the longest established (23 years) – most experienced and best equipped grinding and polishing contractor in Moreton Bay.
Though most of our work has been across SEQ and further afield,  many past clients closer by have missed out. For this reason, having a local polished concrete Morayfield contractor focused having our specialist concrete flooring services available is beneficial for Moreton Bay and surrounds.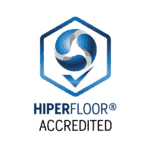 In providing high industry standards, our estimates for polished concrete in Morayfield and neighbouring suburbs are commonly based on the following:
New construction slabs
Renovation of existing floors
Tailored design & delivery according to individual project needs.
Job specific requirements and floor area quantities.
Concrete quality & condition
Adherence to relevant Australian Standards
Installation & technical assistance by Trade Certified Flooring Technicians
Husqvarna Polished Concrete Accredited Contractor
Residential Polished Concrete Morayfield
Polished concrete in Morayfield residential homes is a really good choice.  As a result of this, consider the benefits of a floor that will never be affected from water and absolutely no grout lines to clean.   
Flooring such as carpets, vinyl planks, floating timber or laminate floors all have negative aspects. Timber and laminate tend to swell & peak simply because they just don't like lots of water.
Existing homes have many hurdles to overcome in comparison to building a new home. In short, the best time to do an existing floor is with other renovation work. As an example, grinding and polishing before fitting a new kitchen.  
There are lots of small moving parts that have to work seamlessly for grinding and polishing in Morayfield for new homes and renovations. In the meantime, get in touch to brief us about your residential project so we can advise accordingly. 
Polished Concrete In Morayfield Businesses
Likewise, Ultimate Floors Grinding and Polishing Morayfield caters to both smaller and large commercial and retail businesses. Generally new construction builds have challenges that differ to a renovation project. As an example, a supermarket or retail store that remains operational during a renovation.
Furthermore, our grinding and polishing results in a crafted floor to be super durable, visually uplifting and importantly, easy to maintain.  Durability and long life are paramount to fulfill levels of performance traditional floor coverings will not provide.
Before setting up our renovating, get in touch with the local specialist for polished concrete in Morayfield for a preliminary consult for the type of business floor area is to used and get answers to your questions.
And more importantly, the ecological effects these flooring materials produce from manufacturing and installation in comparison to grinding and polishing concrete will surprise you.
A complete range of services to value add your grinding and polishing in Morayfield homes and commercial flooring projects.
• Mechanical Polished Concrete in Morayfield
• Grind & Seal Polished Concrete
• Concrete Honing
• Concrete Sealing
• Flake Flooring
• Epoxy Floors
• Polyurethane Floor Coatings
• Industrial Epoxy Workshop Floors
• Extensive Specification Drafting
• Consulting & Trouble Shooting
• Complete Floor Preparation
• General Concrete Grinding
• Floor Leveling
• Floor stripping removal & uplifting of existing floor finishes
• Captive shot blasting surface preparation a sand paper type texture
• Honing & preparing concrete floor for epoxy clear coat or polyurethane clear coat
• Concrete planing / Scarifying high spot reduction, evening up lips at concrete joints
Industrial Look Surface Polish - Nil to Low Stone
Industrial finish is usually our most requested process these days.  This finish is also minimal to zero exposing of aggregates. 
Furthermore, a perfect balance between function and cost effectiveness and therefore ideal for larger areas such as warehouses, aircraft hangars and smaller to large retail stores.
Process relies heavily on the condition and finish of the concrete floor. Hence a blemish free surface is not possible without jumping up to the commercial finish. Regardless of blemishes, the result is a hard wearing floor that is visually unique.
Commercial Finish - Random / Partial Stone
Commercial finish is certainly a balance between function and uniqueness. Perfect for lower to mid- gloss finishes. Revealed aggregates are low to medium levels where compared to full cut premium finish.
Commercial polished concrete floors Brisbane is an indoor application for almost any new and existing warehouse. Likewise a perfect balance for retail floors, office spaces, show rooms and residential homes.
With performance properties built in that include a permanent treatment and long term function. Also this floor has a priority with low to medium reflectivity.
In addition to a reflective and unique floor, ease of cleaning and low maintenance are some of the many added benefits Commercial Finish provides.
Premium polished concrete in Morayfield is a high end application with full aggregate exposed. Skilled concrete grinding and polishing technicians create super flat floors. Generally completed at our medium to highly reflective sheen level.
Maybe your new premium finish might just get your friends and family excited as well. We must emphasis, a premium finish creates that "WOW factor you will be proud to show off. 
As a rule, you would select where high performance and a strong visual presence is more you.  Furthermore the ideal solution for most existing residential renovations. Also perfect for architecturally designed new homes.
Finally a perfect solution to retail showrooms and foyers. As a result, high performance and visually impacting results will be expected.
"FAQ's - Guidelines To Get You Started"